Sunday Mornings at 10:00AM
Kernville First Baptist Church has a heart for children. Every Sunday our children all meet in the worship service to worship with their families, and then are dismissed for Sunday School before the sermon. Our church is proud to use Group resources for our Sunday School classes. Sunday school is available from preschool through Middle school. Middle school does not have class on the 3rd Sunday, and every 5th Sunday is a family service with no regular Sunday School. On Sunday mornings, all children need to register out front so that we known who is dropping off and picking up their children. This is one of our measures to ensure your children are safe.
Wednesday Evenings at 5:30PM
On Wednesday evening, while our adults are in Bible study and our teenagers are in youth group, our children from preschool through the 5th grade have a unique and fun Bible club of their own. Kids 4 Truth is designed to teach important Biblical and theological truths to kids on their level. Our children learn about the Bible, learn Bible verses, play games, and enjoy time together in our safe and contained play area.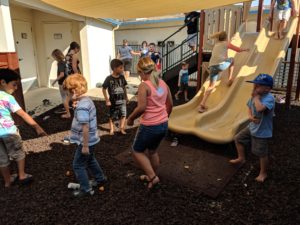 Sunday Mornings from 10:00-11:15AM
Every Sunday morning, we offer a nursery for children ages birth to preschool. We want parents to be able to worship freely on Sunday morning. But we also want to minister to your children. Our nursery workers will love your children, pray for your little ones, read them Bible stories, and play with them in a warm and nurturing environment. All of our children's workers have passed a background check and we take the safety of your little ones seriously.