MISSIONS
Kernville Baptist Church is committed to advancing the Gospel of Jesus Christ in our community and around the world. In obedience to the great command (Love God and love others) and the Great Commission (go and make disciples of every nation), our missions philosophy is that every believer should be involving in:
Giving– As a southern Baptist Church, we invest in sending and supporting missionaries around the world through the International Mission Board and the North American Mission Board. But we are also involved with individual missionaries outside the SBC. In recent years we have partnered with missionaries to Indonesia, Kuala Lumpur, Mexico, Australia, and Haiti.
Praying– Each year, we invite numerous missionaries to come and share their ministries in our worship services. Our goal is to support some financially, but support all through prayer. Every missionary endeavor we undertake or partner with is bathed in prayer, because we believe that God answers our prayers and does incredible things when His people pray.
Going– In recent years, we have been involved in missions projects in Haiti and doing Migrant outreach to workers in California's San Joaquin valley. We want everyone to have a chance to go and participate in mission locally and internationally. As we build relationships and partnerships on the mission field, we hope to expand our efforts, and have further opportunities to go and see what God is doing around the world.
Our mission vision and efforts are facilitated by our Outreach, Missions, and Evangelism Team (OMET), which is made up of people in our church who have a heart for missions and led by one of our deacons.
Recent Mission Trip:
In the summer of 2022, our teenagers and adult chaperones travelled to rural Appalachian Kentucky to work in some economically depressed communities doing community investment and outreach. This trip was about supporting local ministries, sharing the Gospel, and tangible acts of love!
This summer, we have a group going up to Dinorwic, Ontario Canada to help support the ministries of Camp of the Woods. COTW is an evangelistic Christian camp set in the woods of Northwest Ontario reaching local communities. Each summer COTW brings in churches to help them prepare for their summer ministries. Our teens and chaperones will be working to get the camp ready for a summer of Gospel impact and great fun.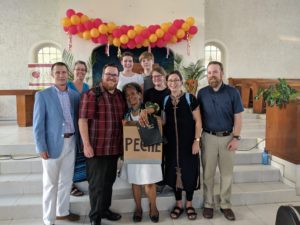 Our 2018 Mission team in Haiti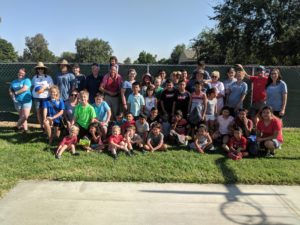 Our 2019 Mission Team in Arvin, CA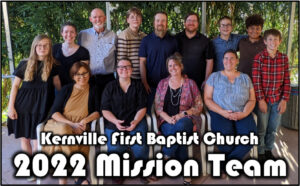 Our 2022 Mission Team to Pikeville, KY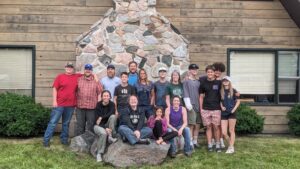 Our 2023 Mission Team to Camp of the Woods, Dinorwic, Ontario